Dear Home Sellers, this is an exchange I had late last year with Jay Thompson at Zillow® during a blog response exchange.  I want to start off by saying:
1)  I don't have a problem with Zillow personnel and that there are actually a few people who work there that I like very much...well one person in particular named Brad Andersohn whom I feel is truly a stand up guy.  I'm sure there are others as well...I just don't know them.  Where I have a problem with Zillow is in their VALUE RANGE MODEL and platform, that in my opinion is nothing more than a grossly misleading marketing gimic in which they've built their entire business on. 
2)  I encourage home owners to do what they can to gather information from various RELIABLE sources when it comes to their most valuable asset.  I think sellers need to be made more aware that the small percentage of "margin of error" that Z has as a disclaimer, has a potential price difference of tens of thousands of dollars, sometimes hundreds of thousands of dollars of actual sale price compared to the delusional "Zestimate®" price.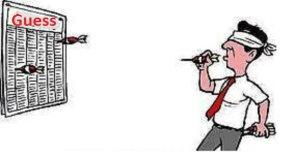 Jay Thompson (comment #21)
Jay T. from Zillow here. 
Couldn't agree with you more, Andi, that buyer and sellers should use a professional real estate agent. The Zestiamte is just that, an estimate. It's not intended to be a substitute for a pro's valuation. It's a good starting point, but we encourage our site visitors to contact an agent.
We even say so, right on Zillow (https://www.zillow.com/wikipages/What-is-a-Zestimate/)
What us a Zestimate?
The Zestimate® (pronounced ZEST-ti-met, rhymes with estimate) home valuation is Zillow's estimated market value, computed using a proprietary formula. It is not an appraisal. It is a starting point in determining a home's value. The Zestimate is calculated from public and user submitted data; your real estate agent or appraiser physically inspects the home and takes special features, location, and market conditions into account.  We encourage buyers, sellers, and homeowners to supplement Zillow's information by doing other research such as:
Getting a comparative market analysis (CMA) from a real estate agent
Getting an appraisal from a professional appraiser
Visiting the house (whenever possible)
  ____________________
MY RESPONSE (comment #26):
"Jay T (from Zillow). I understand that Z is a business.  But when it starts harming my industry which is my business I have to say something.  
Look at the Zestimate Accuracy chart that Praful and Michelle Carr-Crowe posted.  In Los Angeles CA it says that 56%* (nearly half) of it's estimates are within 10% of the actual sale price, again on a $400K price that's potentially $40,000 off in price.  $40,000! The other 90% of zestimates had an even greater margin of error than that!  Then just a couple of columns to the right of that it states 82.90% of Zestimates are within 20% of the sold price.  2-0 percent, viente! On a $500K home that is potentially $100,000 error or "Zestimate" inaccuracy.  That is not something to brag about. You said that the Zestimate is "a good starting point".  Zillow calls a potential $60K - $100K margin of error on a $400K+ home a good starting point with that level of inaccuracy?  Sellers cannot afford that wide a margin of error when pricing their home or competing with others on the market. THAT MARGIN OF ESTIMATE ERROR IS NOT ONLY UNACCEPTABLE, IT'S IRRESPONSIBLE.
Zillow would like for Realtors to believe that they are partners and co-laborers in the Real Estate industry, but until Zillow recognizes the harm they inflict upon sellers with their grossly misleading "Zestimates" and the agents that have to convince them otherwise you will continue to be looked upon as contrary and negatively impacting the home value estimation part of this industry, an enemy to it if you will.  To have Zestimates as ANY starting point for a seller does more harm than good PERIOD.  I can't believe the powers that be haven't cut their losses on the "Zestimate" point by now.  It's ridiculous.
Home sellers and agents have enough flesh and blood out-of-area appraisers to fight on the valuation point as it is, let alone some "proprietary formula" which is nothing more than some out-of-state computer generated algorithm."  
___________________
I got no further response from him. 

Original blog titled  Seller FAQ: Realtor CMA or Zillow Estimate was posted on Activerain (which has since been bought by Trulia who has since then partnered with Zillow.  Yep you read that correctly.  With that said, I thought it best to post the excerpt here for you just in case it is taken down by the "Z" team).
_______________________________________________________
* As of June 4, 2014 their charts state the Los Angeles percentage of estimates that are within 10% of the actual sale price is 65.8% and 20% of actual sale price is 86.6%.  THOUSANDS of dollar difference.  For homes over $500K which are many, that is potentially a hundreds thousand + difference.